I needed to refresh my palette of gouache paint, so I decided to do this review before I mix ox gall, glycerin, and honey into my paints.
I'll be honest, and say that I have not really enjoyed this Winsor and Newton gouache set. The warm and cool colors are not the ones that I would have chosen. Also, if I do not add other ingredients, the paints will be almost unusable and dry hard as a rock.
Still, I haven't painted with them in their raw form in quite a while, so I tried to look at them with fresh eyes.
Stats
| Quality | Where Does it Stand? |
| --- | --- |
| Lightfastness | 15 out of 82 colors in the line have an AA rating of extremely permanent, and 52 out of 82 colors in the line have an A rating of permanent. So 67 of the 82 colors in the line have a permanent or extremely permanent rating. |
| Where Is It Made? | France |
| Identification (Color Labeling and Accuracy) | The tubes of paint have small swatches of color on the front which are not very accurate to the color that is inside the tube. They also include the lightfastness, the color series, the color name in three languages, the pigment name, the opacity, and ASTM D4236 information. |
| Tube size | 14 mL (.47 ounces) |
| Price | Around $5 per tube |
Colors In the 10 Tube Set
Zinc White – permanence A , PW5, opaque
Yellow Ochre – permanence AA, PY 42, opaque
Ultramarine – Permanence A, PB 29, opaque
Spectrum Red – permanence A, PBR 25+ PR 170, opaque
Primary Yellow – permanence A, PY 74+ PY 138, semi opaque
Primary Red – permanence B, PR170, semi-opaque
Primary Blue – permanence A, PB 15, opaque
Permanent Yellow Deep – permanence of A, PY 65, semi opaque
Ivory Black – permanence AA, PBK9, opaque
Permanent Green Medium – permanence A, PY3 + PY 74+ PG7, opaque
Swatches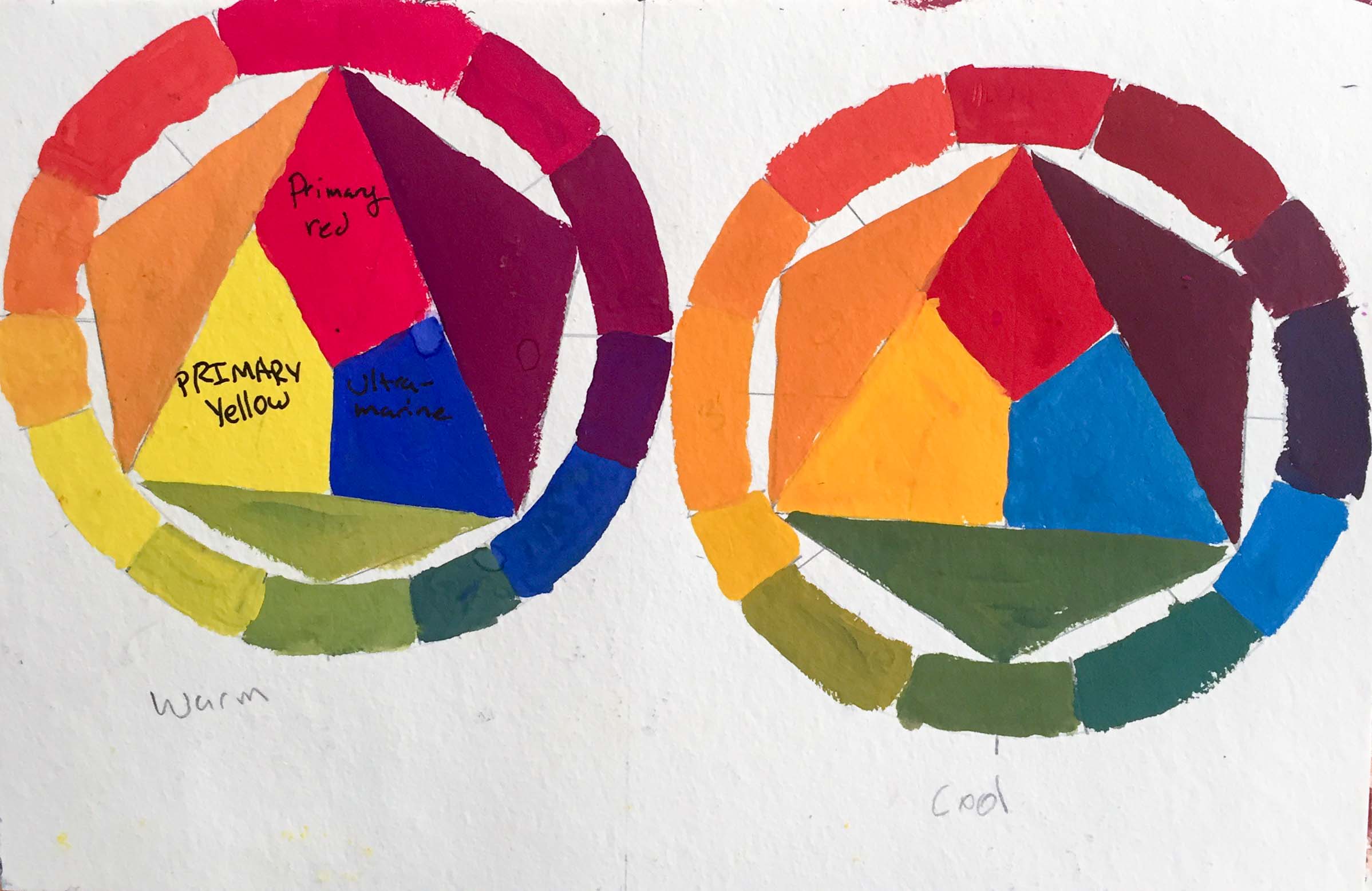 As you can see in my swatches, the colors are all very opaque. Even the yellow can be made opaque on a black surface if enough pigment is applied.
The colors are also pretty bright and vibrant. The one problem I had is that they do not they were very prettily. It just kind of looks like sludge. That is probably because of the high level of chalk that is probably in this paint in order to make it so opaque. It also gives the paints over all a fairly chalky look.
Mixing
There are no problems mixing Winsor and Newton Designer Gouache colors. Even though there are some multi-pigment colors, these also makes cleanly.
Re-wetting
These colors did not re-wet well at all. They dry to a hard lump and even when water is applied, they only become a sort of watery slurry. If you want to use these colors, I would recommend using them fresh or adding things like honey or glycerin to keep them workable.
Pros and Cons
| Pros | Cons |
| --- | --- |
| Lightfast Colors | High Level of Chalk |
| Easily Available | Does not re-wet well |
| One of the few higher quality gouache brands | Low price to quality ratio |
| Opaque | The colors do not dilute well |
Who is it for?
These pigments are best for the person who is looking to step up in their gouache paint quality, but doesn't have access to other brands of higher-quality paint like Holbein, M Graham, or Schmincke.
If you have access to these other brands, I would recommend that you go with them over these because they are too expensive for the quality that you receive.
On the other hand, if you are looking for paint that is definitely going to be opaque, then these might be good. Since they have additional talk added, the majority of the colors are very opaque. Brands like M Graham and Schmincke do not have talk added, and so can be more opaque until white is added to the colors.
The Last Word
Price: ★★☆☆☆
Quality: ★★★☆☆
Overall: ★★★☆☆
Personally, I did not enjoy these paints, and would not recommend them if other high-quality brands are available. However they are not a low quality paint and I think that many artists could enjoy working with them.
Availability
Other Discussions
Images Painted With This Gouache